Death of SG1 Is An Awful Mistake for Sci-Fi Channel
This was originally printed at
fi-sci.com
One thing is for sure, Sci-Fi Channel sure knows how to throw a party. Shortly after the crew of Stargate:SG-1 filmed their 200th episode, a first for an American Science Fiction program, the mecca for all of us Sci-Fi geeks made a shocking announcement – SG-1's run would end at 10 seasons. We got plenty of corporate mumbo jumbo saying that the ratings weren't what they used to be and that the show's popularity was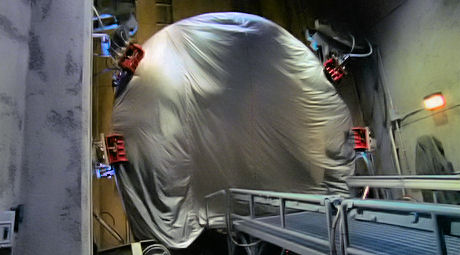 dwindling, but don't buy it folks. The truth is that Sci-Fi Channel has its own programming, like Battlestar Galactica and Eureka that cost a lot less to make than Stargate does. The numbers say that Galactica and Eureka are more successful shows and since Sci-Fi channel owns their property (as opposed to Stargate, whose rights still belong to MGM), they can make tons more money off those shows.
Its big business, my fellow Gaters. Sci-Fi not only makes advertising dollars off of BSG and Eureka, but it also profits off of merchandising. T-shirts, Mugs, action figures – Sci-Fi gets the check for that while that piece of the pie for Stargate goes straight into MGM's pocket. I believe the suits thought they have enough of Stargate in Stargate:Atlantis and really don't need two Stargate programs. It's just business. Unfortunately, for a company that caters to a specific genre group, it's a terrible public relations decision.
SG-1 may not be pulling the kind of numbers it used to but perhaps its more due to terrible time placing than it is the quality of the program. SG-1 is facing off against the USA Network's cable powerhouse, Monk. It also is challenged by Kyle KY on ABC, Showtime's Weeds, and SpikeTv's reruns of CSI. They also made the very questionable decision to breakup Sci-Fi Friday, with SG1 and Atlantis leading into BSG. One would typically be more inclined to watch the 3 hour block than TIVO it, but two hours of similar programming? I think that's where many of our Stargate fans have gone. The invention of the DVR may have led to the downfall of SG1. I know I've been guilty of it myself.
One has to question the direction of Sci-Fi Channel's quality. While BSG is definitely great and Eureka is an interesting little show – what else will Sci-Fi have to offer fans once they have buried SG1 and eventually Atlantis? Their god awful creature-feature-movies-of-the-week schlock fests? Sorry, if Bruce Campbell isn't in it, I'm not watchin' it. Is WWE wrestling really Sci-Fi related? Sure, the characters appear to be from another world but Triple H is not a true alien – at least to our knowledge. This is the company that passed on giving Firefly a home, despite the rabid base of fans that actually convinced Fox to create a feature film based off a series that was cancelled after three episodes.
Truth be told, other than BSG, Science Fiction fans are beginning to turn to other channels to fulfill their Sci-Fi jones. It's pretty sad when the USA network is bringing better Sci-Fi programming (The 4400) than the Sci-Fi Network itself…and who knows, maybe, just maybe, USA will take the Stargate ball and run with it. Let's face it - I don't think that network has a show that has been going on for 10 glorious years.
Wake up, Sci-Fi Channel. You are throwing away ten years of a loyal fanbase and the fans are not happy about it. Some speak of boycott (with the exception of Atlantis). These are the people you WANT watching your network. It's understandable that Sci-Fi Channel wants to broaden its audience and that's why its bringing programming that has nothing to do with Science Fiction, but they do it at the risk of alienating their core audience.
Stargate SG-1 placed Sci-Fi Channel on the map. We all know this. For them to just throw the series away after such a momentous milestone is just plain stupidity. I look forward to seeing what program they decide to replace SG-1 with – as I can't imagine it being half as good or garner the ratings that Stargate has over the past five years its been on the network.
I mean, does anyone truly want a return of Sliders?
JC De La Torre is the author of Ancient Rising and the Vice President of the Speculative Fiction publisher, Luna Brillante Publishing